egon901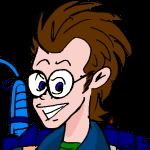 Quote:
Profile
Zodiac;
Age: 42
Location: Los Angeles, CA.
Quote:
Signature
Wow, it's all nice and shiny.
I haz
deviantArt.
Birthday Trivia
Quote:
Gregorian: Thursday, 1 January 1981
Mayan: Long count = 12.18.7.10.3; tzolkin = 1 Akbal; haab = 6 Kankin
French: 11 Nivôse an 189 de la Révolution
Islamic: 24 Safar 1401
Hebrew: 25 Teveth 5741
Julian: 19 December 1980
ISO: Day 4 of week 1 of 1981
Persian: 11 Dey 1359
Ethiopic: 23 Takhsas 1973
Coptic: 23 Kiyahk 1697
Chinese: Cycle 77, year 57 (Geng-Shen), month 11 (Wu-Zi), day 26 (Ji-Mao)
Julian day: 2444606
Day of year: Day 1 of 1981; 364 days remaining in the year
Discordian: Sweetmorn, Chaos 1, Year of Our Lady of Discord 3147
Order of Hermes: XI Capricorn, MMCXIX Age of Pisces
Jeremy Hicks is one of the founding members of the Ghostbusterse West Coast. He joined the team even before that idiot Veedramon was recruited. He's written a couple of fan fics, also, available at the
GBWC Case File
page (that would be "Opportunity Knocks" and "Soul of the Samurai"). He's also the boyfriend of another GBWC member, who posted back in the day as Rachel Leavenworth or
Ellie Carell
I feel bad for him having a birthday on New Years. My grandmother was born on Christmas, and my niece was born a week before Christmas, so I can figure that having a birthday one week after Christmas can be a pain sometimes. I feel fortunate mine's in May, so the loot opportunities are spread out.
On the other hand, I guess it makes it easy to figure out how old he is. He's the same age the entire year!
Jeremy joined the original Ectozone forum on Jun 9, 2004 (making him a charter member of that was well) and the current one on August 25th, 2007. He has a total of 139 posts, and thus the three-star rank of Doberman
Happy New Year and Happy Birthday, J.