I delayed making this post in hopes of getting ahold of my friend's camera and putting up better pictures that this, but while that may still happen I'm done and wanted to share:
A few last details. The rearview mirror and the electrical conduits: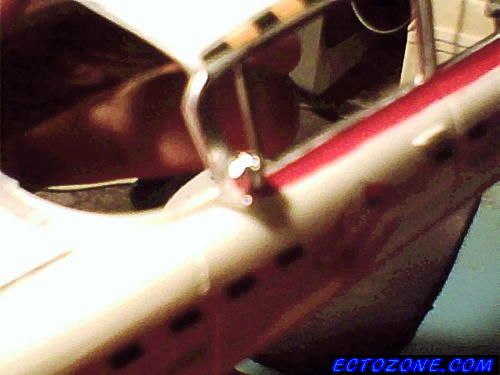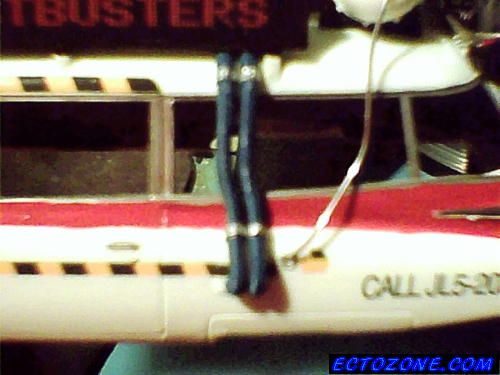 The whip antenna. I mentioned on another thread that I had a setback caused by rushing? Yeah, it was hurrying when I was taking the whip antenna from the sprue. I cut the wrong connection first and the damned thing snapped in two. I glued it back together, but I'm not 100% pleased with the results. I debated with myself whether to use it anyway or make a substitute out of the same bead wire I used to replace the "braided hose". In the end, I decided that the loss of detail would be more noticeable, and went with the repaired kit part. It doesn't look as crappy as I feared.
So here it is, the complete ECTO-1, January 1989-c.2001 version: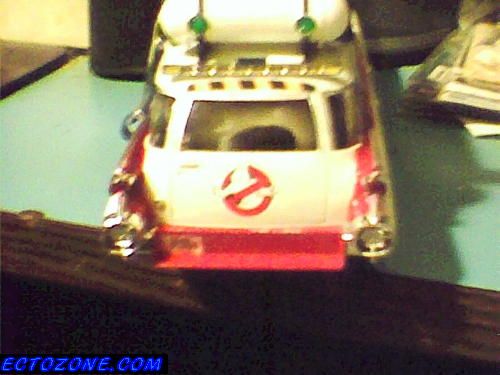 And because it's me, some more "Ectozone Minimate Theatre":
To celebrate the successful completion of the ECTO-1, I semi-reenacted the picture of the Ghostbusters with the original ECTO-1 in the first post of the thread:
As you can see, in the excitement we got a few extras.
Heck, even the Rookie showed up, which will inexplicably make this thread three times as popular as it was before!
Then they got a call, and only had room for one extra. These three got left behind, solving the "Which one is the real 'fifth Ghostbuster'?" question once and for all.
Unfortunately for Venkman, the call was
Nick the Biker Punk
, necessitating him having to go onto the roof rack again:
I actually didn't glue the parts of the body together. I doubt I will be taking the Minimates in and out of it very often, but I have the option. If the model just sits there on display, the fact that it's not totally glued together doesn't really matter.
It's been a long time getting here, and while I'm glad to have it done I'm also almost sad in a way. It's been a lot of fun, and I hope I've entertained everybody at least just a little bit.